We've had a rainy week here in Colorado.  One of those weeks where you bust out the sweaters and rain boots and want nothing more than to come home to a warm meal and cozy up with a good book.  After a warm start to autumn, I am loving the change.  The colors of the trees in our neighborhood have been amazing, and the crisp air invigorating.  I'm just not ready for this rain to turn into snow and super low temps.  So this week I had to make my favorite salad which brings all the flavors and warmth of fall and pairs them with the freshness of a beautiful and simple coastal meal.  If you're not a fan of fish, this pairs beautifully with another protein of choice (grilled chicken, steak, shrimp, etc.).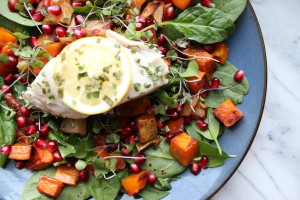 First, dice up one pound of butternut squash, two apples, and two pears.  Toss them in coconut oil, ghee, or butter, and spread them on a parchment lined baking sheet.  Sprinkle with two tablespoons of cinnamon and two teaspoons local raw honey (optional).  Bake in a 350 degree oven for 30 minutes.
Prep your protein of choice and cook while the squash mixture is baking.  I used Atlantic Cod from Sizzlefish sprinkled with garlic, sea salt, and fresh lemon, and baked in parchment for the last 10 minutes of the baking time.  Layer organic greens, sprouts, and pomegranate seeds, and drizzle it with a little extra virgin olive oil and a splash of champagne vinegar or ACV.  Top with your warm squash, apples, and pairs, and the fish or whatever protein you chose.  If you tolerate it well, goat cheese sprinkled over the top tastes amazing on this as well.  Serve this colorful and nutritionally-balanced salad any time of day for yourself or to entertain guests.  There's just something about a warm salad that delights the senses and makes you feel incredibly nourished.  And isn't that what a meal should be about?  From my kitchen to yours, I wish you all a cozy fall and a whole nourished week.