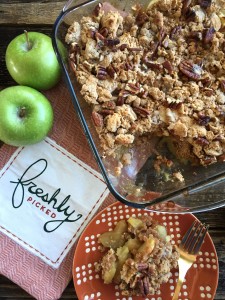 Well, here it is October already!  Autumn is my absolute favorite time of year- crisp mornings, cozy sweaters and boots and scarves, crackling leaves as we walk to school, all things pumpkin, and of course, perfect baking weather. While I don't promote having treats, even the healthy ones, all the time, I believe balance is so important.  If baking in the fall is one of your happy things, then by all means enjoy it!  Just keep it in a healthy balance with the rest of your diet and your own personal health goals.  Or better yet, enjoy your baking and share your treats as gifts with loved ones.  This grain-free apple crisp is the perfect autumn treat and a nice alternative to all those pumpkin goodies out there (although I never get tired of those either).  It comes together in a flash and leaves your home smelling like a perfect fall day. Serve warm right out of the oven a la mode for a dessert or pair it with coffee or tea when a friend drops by.  It's grain-free, gluten-free, paleo, and allergy-friendly (just leave off the pecans on top to accommodate nut allergies).
Here's what you'll need:
8-10 organic granny smith apples
1/4 c coconut oil (melted)
1/4 c grass fed ghee or butter (melted)
1 1/2 c cassava flour (I love Otto's Cassava Flour.)
1/3 c maple syrup
1 tsp cinnamon
1 tsp vanilla
juice of one lemon
1 c chopped pecans (optional)
First, core, peel, and slice the apples and place in a baking dish (I used an 8 x 8 square pyrex). Toss the apple slices in the juice of half a lemon and the melted coconut oil.  In a separate bowl combine all the other ingredients til mixed well and place evenly over the apples. Bake in a 350 degree oven for 30-40 minutes or until the top just starts to brown.