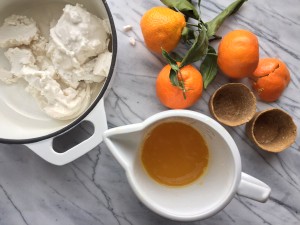 Now that it's January, I find myself getting into my usual routine of dreaming of warmer days, sunshine, and a beach (who am I kidding, I never stop dreaming of beach days).  It's as if cranking up the heat, turning on the fireplace, and putting on a surf film will transport me out of the cold that my body doesn't tolerate well and straight to the North Shore of Oahu, back to that little café with the best shave ice in the world and the only agenda for the day is watching the locals ride the waves ….. Okay, I'll stop day dreaming and get back to making the most of these winter days with warming soups (like my easy detox soup) and using the stunning citrus and pomegranate that are currently in season.
The smell of these satsuma oranges has been intoxicating.  The second I saw them at the market, I knew I had to load up a bag and make something delicious with them.  In my usual fashion, I started pulling ingredients from the fridge and pantry and started playing, and this satsuma orange cream tart came together in no time.  I made a batch in tart shells (these Almond Mini Tart Shells from Two Moms in the Raw are a fantastic quick paleo option I found at my local Whole Foods) as well as a batch of crustless tarts in pretty little individual dishes.  This recipe works either way and makes an easy elegant dessert for guests.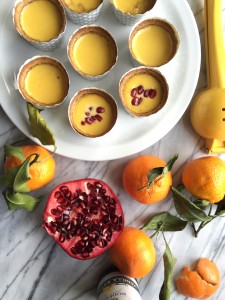 Here's what you'll need (ingredients):
1/2 c. coconut sugar
2 eggs
2 egg yolks
2/3 cup fresh satsuma orange juice
zest of 1 lemon
juice of half a lemon
1 tsp. vanilla
1 cup coconut cream (if using canned coconut milk, just scoop out the cream and use the liquid in a smoothie or something else)
optional: 2 scoops Vital Proteins Collagen Peptides
optional: Almond Tart Mini Shells by Two Moms in the Raw
Here's what to do (directions):
Whisk all ingredients together in a heavy stock pot over medium heat until the mixture starts to thicken (approximately 7-10 minutes).
Remove from heat and allow to slightly cool.
Fill tart shells or serving dishes with the tart mixture.
Top with pomegranate if desired.
Place in the refrigerator for at least two hours prior to serving.