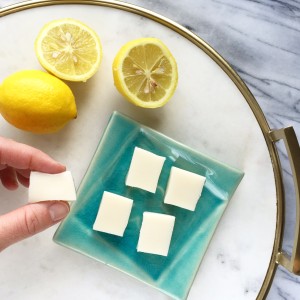 After many requests on my Instagram account for this recipe, I wanted to share this easy healthy treat with all of you.  It's full of healthy fat from coconut milk and protein from Vital Proteins grassfed gelatin, and it incorporates some of my favorite flavors.
Ingredients:
1 can coconut milk
2 tsp. vanilla
2 scoops (20g) Vital Proteins gelatin
juice of 3 lemons
1/4 c. raw honey
Directions:
Combine all ingredients while whisking over medium heat.  Bring just to a boil.  Remove from heat.  Pour into silicon mold or in a 9×9 baking dish and refrigerate for a minimum of two hours.
Remember to click here to follow Whole Nourished Life on IG for many more recipes and healthy living tips!