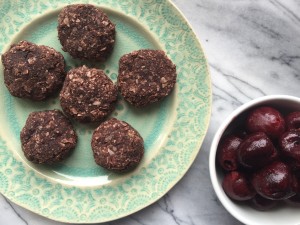 Over the past couple of days I decided to trade home office space with my husband.  As much as I love to play in the kitchen, I think I equally love decorating.  The fun of shopping for that perfect piece that fits your style and complements the other things you've acquired and loved for some time is a thrill.  And when it all comes together perfectly, you know it's going to be the perfect space for you.  My husband is a general contractor and also an incredibly talented custom interior carpenter. So, I have some lovely plans for built-in shelving and floor-to-ceiling shiplap in the near future for my newly claimed office space, but I have to wait for his jam-packed schedule to have room for my projects.  In the meantime, I'm giving it a touch of my breezy coastal style that I love so much.  It's important to have space that inspires you when you spend so much time working there!
I also wanted to share a new recipe with you all this week!  It's an AIP-friendly cookie that is just the right amount of sweet.  I cut the sweetener down during recipe testing until it was just the perfect amount to satisfy that craving for something sweet without going overboard.  And let's face it, it's always nice to be able to have a little something when everyone else is enjoying a little dessert or when you need an easy option for guests with dietary needs.  I hope you enjoy this recipe as much as I did!
Cherry Carob AIP Cookies (makes approx. 18 cookies)
Ingredients:
1/3 cup coconut flour
1/8 cup arrowroot starch
pinch salt
1/4 cup carob powder
2 1/2 cups unsweetened coconut
1/4 cup maple syrup
1/2 cup coconut cream
2 scoops high quality gelatin (like Vital Proteins)
15 frozen pitted cherries
Instructions:
Preheat oven to 375. Combine all ingredients in a food processor and process til combined into a dough-like consistency.  Use a cookie scoop or tablespoon and form into small balls approximately 1 1/2-2 inches in diameter and place onto a parchment lined baking sheet. Press the top of each to flatten a bit.  Bake in the oven approximately 12-15 minutes.  Remember oven times vary, so check each batch to make sure you take them out before over-cooking. Enjoy!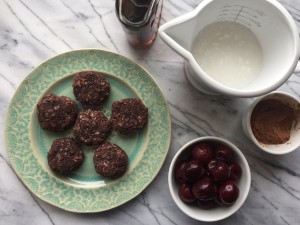 I'd love to hear your thoughts!  Comment below to let me know what kinds of recipes or content you'd love to see in the near future.  And, as always, have a great week as you work toward having a whole nourished life! ~xoxo, Emily