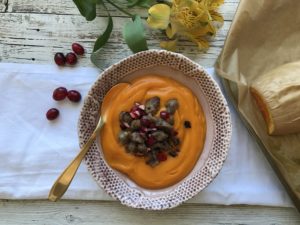 There's a chill in the air .  Actually, it's downright cold.    Days like this need warm cozy soup by a fire after shoveling snow  and standing in the cold waiting for kids to get out of school.  This recipe was born out of a combo of things I had in the refrigerator and pantry and a determination not to make a trip to the grocery store on a frigid day.  It's super simple, so try it out and feel free to make any number of variations with the flavors — it's hard to go wrong!
Ingredients:
1 medium butternut squash
1 lb. cranberry orange sausage (optional, this was a seasonal find-regular breakfast sausage works great to or make your own AIP-friendly batch from pastured ground pork)
1 orange
1/2 to 1 cup coconut milk or milk of choice
1 cup fresh cranberries
Sea salt, to taste
Directions:
Preheat oven to 350 degrees.
Cut butternut squash in half, scoop out the seeds, and place face-down on parchment-lined baking sheet in oven.
Brown sausage and set aside.
Bake squash 45 minutes or until tender.
Scoop out the squash and place in Vitamix or high-speed blender, add 1/2 cup coconut milk, the juice of one orange, and a pinch of sea salt.  Purée until smooth, adding additional coconut milk as needed until desired consistency.
Pour into serving bowls and top with browned sausage and chopped fresh cranberries.  Serve immediately.